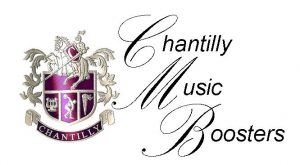 The CHS Music Boosters organization supports the Band, Choral, and Orchestra Departments.
As school begins, we would like to invite all of you to support these entertaining and challenging programs by joining the Chantilly High School Music Boosters. This is the best way for parents and families to participate and be involved with the music programs. The support of Parents, Friends, and Alumni enables our directors to focus on the educational experiences of our students and provide the best possible program of studies.
The Chantilly Music Boosters support Chantilly's Music Program by:
Paying for specialists (professional musicians) to assist in teaching sectional rehearsals for the band, and for the Indoor Drum Line and Color Guard
Design and choreograph the marching band show
Purchase new instruments, equipment and music
Provide registration fees for competition
Provide for professional staff development
Provide awards and scholarships for students
Cover the cost of some transportation
You can support the CHS Music Boosters by becoming a Music Member or Patron.
Chantilly Music Boosters Executive Board
Mindy Morack – President
Tony Hsu – Treasurer
Beth Gustafson – Secretary
Katherine Dunning – Band VP
Josephine LeBeau – Choir VP