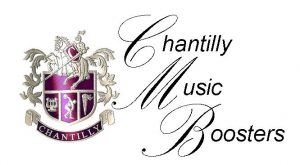 The CHS Music Boosters organization invests in our students and our band program by:
Paying for clinicians (professional musicians) and support staff to support student learning in small group settings and extracurricular ensembles.
Providing awards and scholarships for students
Purchasing new instruments, equipment, and music for students
Providing funding for registration fees for competition
Providing funding for some transportation
Providing support for professional staff development
Strengthening community within our band families
Supporting the general infrastructure and operations of our comprehensive band program through fundraising, volunteerism, and advocacy
You can support the CHS Music Boosters by becoming a Music Member or Patron. Click here for the form which include instructions to pay online or by check.
As school begins, we invite all of you to support these entertaining and challenging programs by joining the Chantilly High School Music Boosters. This is one of the best ways for parents and families to participate and be involved with the music programs. The support of Parents, Friends, and Alumni enables our directors to focus on the educational experiences of our students and provide the best possible program of studies. Email chantillymusicboosters@gmail.com. Executive Board Meetings are on the 3rd Tuesday of the month with the exception of December. General meetings will be Sept 21, 2022 and May 16, 2023.
2023-24 Chantilly Music Boosters Executive Board
Julie Chang – President
Chris Lee – Treasurer
Pontea Amiri – Secretary
Barbara Miserentino, Heather Ellison – Band VPs
Amber Smith – Choir VP
Jee Hoon Song – Orchestra VP
Chantilly Music Booster Bylaws
Sept 2023 General Meeting Slides